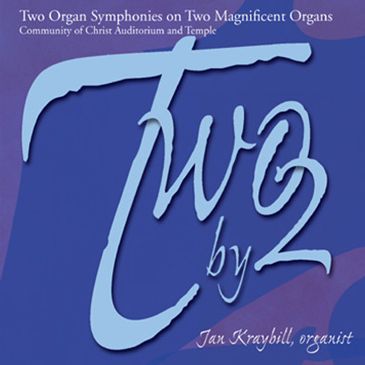 Two by 2: Two Organ Symphonies on Two Magnificent Organs (2004)
"This is Kraybill's first solo organ recording, in which she firmly establishes herself as one of this country's up-and-coming organists. ... secure, assured performances that highlight Kraybill's musical playing ... She traverses the expansive first movement [of Sowerby's Symphony] with ease and élan, building to a powerful, scintillating climax and then easing gently to the concluding measures ... acrobatic assurance ... firm pacing throughout ... This reviewer highly recommends this recording ... musical, introspective, and exciting performances on two exceptional organs."  -- The Diapason, June 2008
The organs heard in this recording are housed in the Community of Christ Headquarters complex. Sowerby's Symphony in G is performed on Opus 1309 of the Aeolian-Skinner Organ Company, Boston, Massachusetts. The organ is the visual focal point of the Auditorium, a large conference chamber which seats nearly 6,000 people. Installed in 1959 and based upon a design by G. Donald Harrison, it contains 4 manuals, 113 ranks and 6,334 pipes.
The instrument used for Widor's Symphony No. 5 stands in the Temple, a remarkable worship space whose spiral ceiling, soaring 198 feet above the floor, contributes to a generous acoustic. The organ was installed in 1993 by Casavant Freres, St. Hyacinthe, Quebec, and was designed by Jean-Louis Coignet, Organ Expert for the city of Paris, France. Its specification is heavily influenced by the work of French organbuilders Jean-Esprit Isnard (1707-1781) and Aristide Cavaille-Coll (1811-1899). It consists of 4 manuals, 60 stops and 102 ranks.
Complete details of these two instruments may be found at www.cofchrist.org.
Track 1. Symphony No. 5 in F minor, Op. 42, No. 1 - Charles-Marie Widor - mvt. I, Allegro vivace (9:39)
Track 2. Symphony No. 5 in F minor, Op. 42, No. 1 - Charles-Marie Widor - mvt. II, Allegro cantabile (6:50)
Track 3. Symphony No. 5 in F minor, Op. 42, No. 1 - Charles-Marie Widor - mvt. III, Andantino quasi allegretto (6:35)
Track 4. Symphony No. 5 in F minor, Op. 42, No. 1 - Charles-Marie Widor - mvt. IV, Adagio (5:17)
Track 5. Symphony No. 5 in F minor, Op. 42, No. 1 - Charles-Marie Widor - mvt. V, Toccata (Allegro) (5:25)
Track 6. Symphony in G Major - Leo Sowerby - mvt. I, Very broadly (19:57)
Track 7. Symphony in G Major - Leo Sowerby - mvt. II, Fast and sinister (8:01)
Track 8. Symphony in G Major - Leo Sowerby - mvt. III, Passacaglia (12:26)
Total run time: 74:15