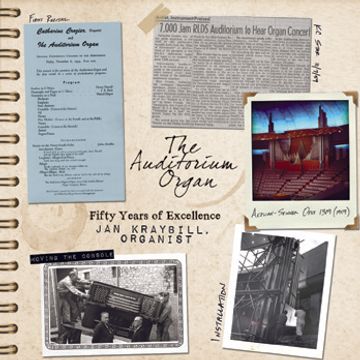 THE AUDITORIUM ORGAN: 50 YEARS OF EXCELLENCE (2009)
To purrchase, see linke below.
A recording of my re-creation of the inaugural recital performed on November 6, 1959, by the acclaimed organist Catharine Crozier at the then-RLDS Auditorium Organ, on the 50th anniversary of that event. The Kansas City Star reported that more than 7,000 people attended the inaugural performance of this new and glorious pipe organ, then the largest West of the Mississippi.
This magnificent instrument is Opus 1309 of the Aeolian-Skinner Organ Company, Boston, Massachusetts. Installed in 1959 and based upon a design by G. Donald Harrison, it contains 4 manuals, 113 ranks and 6,334 pipes. For many years, this instrument was heard nationally through John Obetz's weekly radio program "The Auditorium Organ."
Complete details about the organ may be found at www.cofchrist.org.
Track 1: Fanfare in C Major - Henry Purcell (1:33)
Track 2: Passacaglia and Fugue, BWV 582 - J.S. Bach (13:25)
Track 3: Variations on a Noel, Op. 20 - Marcel Dupré (12:44)
Track 4: Sonata on the 94th Psalm - Julius Reubke (26:07)
Track 5: Prelude and Fugue in G minor, Op. 7, No. 3 - Marcel Dupré (6:46)