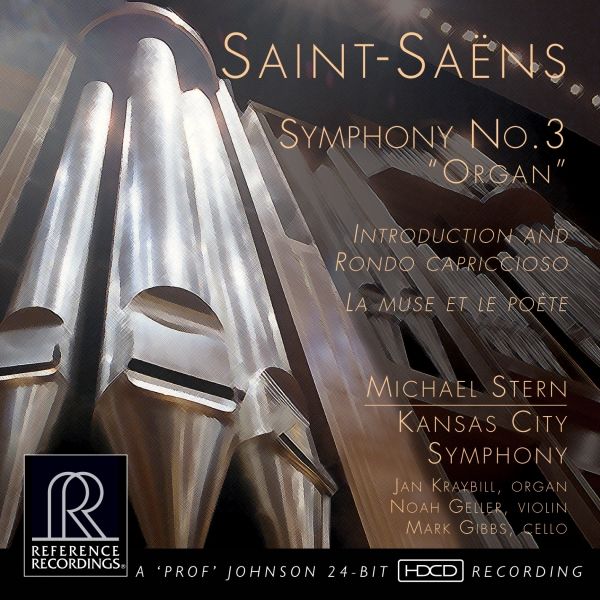 SAINT-SAËNS: SYMPHONY NO. 3 "ORGAN" (2015)
GRAMMY-nominated 2016
Released June 9, 2015.  To purchase, see link below.
MICHAEL STERN and the KANSAS CITY SYMPHONY in their most recent recording in their lovely home, the acoustically and visually gorgeous Helzberg Hall at the Kauffman Center for the Performing Arts. It was my honor and great pleasure to play the Julia Irene Kauffman Casavant pipe organ for the well-loved "Organ" Symphony (Symphony No. 3) by Saint-Saëns. Also on the disc are two other virtuosic and colorful works by the same composer, featuring wonderful soloists Noah Geller, concertmaster of the KC Symphony, and Mark Gibbs, the Symphony's principal cellist.
Track 1: Introduction and Rondo capriccioso in A minor for Violin and Orchestra, Op. 28 - Camille Saint-Saëns (9:33) - NOAH GELLER, violin
Track 2: La muse et le poète for Violin, Cello, and Orchestra, Op. 132 - Saint-Saëns (16:20) - NOAH GELLER, violin, and MARK GIBBS, cello
Tracks 3-6: Symphony No. 3 in C Minor, Op. 78, "Organ" - Saint-Saëns (35:27) - JAN KRAYBILL, organ
Tr. 3:  Adagio - Allegro moderato (10:18)
Tr. 4:  Poco adagio (9:43)
Tr. 5:  Allegro moderato - Presto (7:25)
Tr. 6:  Maestoso - Allegro (8:01)
Complete details about the organ may be found at www.kauffmancenter.org/the-center/venues/helzberg-hall/the-organ/ and at www.casavant.ca/english/our-instruments/in-concert-halls/.