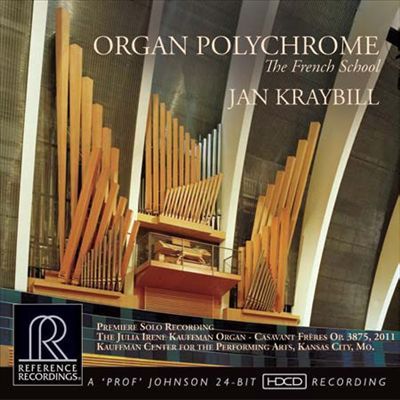 Organ Polychrome: The French School (2014)
To purchase, see link below. 
The first solo recording of the Julia Irene Kauffman Casavant pipe organ, installed in 2011 in Kansas City's fabulous new concert hall, The Kauffman Center for the Performing Arts.
The works on this CD highlight the rich French heritage, extensive array of tonal colors, and amazing expressive abilities of Casavant Frères Opus 3875.  The disc tells the story of many of the most distinctive voices of the artists who composed and performed organ music in France during a fifty-five-year window of time spanning the turn of the twentieth century, a period of great innovation in both organ building and organ composition.
Complete details about the organ may be found at www.kauffmancenter.org/the-center/venues/helzberg-hall/the-organ/ and at www.casavant.ca/english/our-instruments/in-concert-halls/.
Track 1: Allegro (first movement) from Symphony No. 6 in G minor - Charles-Marie Widor (8:57)
Track 2: Prière (Prélude in G minor), Op. 11 (world premiere!) - Florent Schmitt (2:54)
Tracks 3 and 4: Deux danses à Agni Yavishta - Jehan Alain (5:14)
Track 5:  Variations de Concert, Op. 1 - Joseph Bonnet (8:46)
Track 6:  Scherzo, Op. 2 - Maurice Duruflé (6:44)
Tracks 7 and 8:  Prélude and Fugue in G minor, Op. 7, No. 3 - Marcel Dupré (7:01)
Track 9:  Pièce héroïque - César Franck (10:19)
Track 10:  Caprice in B-flat, Op. 20, No. 3 - Alexandre Guilmant (5:40)
Track 11:  Prélude from Pièces de fantaisie, Op. 51 - Louis Vierne (3:35)
Track 12:  Caprice from Pièces de fantaisie, Op. 51 - Louis Vierne (3:24)
Track 13:  Intermezzo from Pièces de fantaisie, Op. 51 - Louis Vierne (2:25)
Track 14:  Grand-Choeur dialogué, from Six pieces (1881) - Eugene Gigout (6:07)
For purchasing information, click Buy CDs at the left.